I grew up in New Orleans and as a young school girl in the 1970s, my older sister took me to the historic Milton H. Latter Memorial Library.
This turn of the century building was a mansion occupying an entire city block on the renowned St Charles Ave. I wasn't keen on reading my assignments and preferred to get lost in the majestic surroundings. The twin parlor ceilings house French Baroque paintings, decorative plaster molding with gold leaf accents, and hand- painted canvas murals. It's no wonder that my journey has led me to a career creating and restoring the beauty that captured my childhood imagination.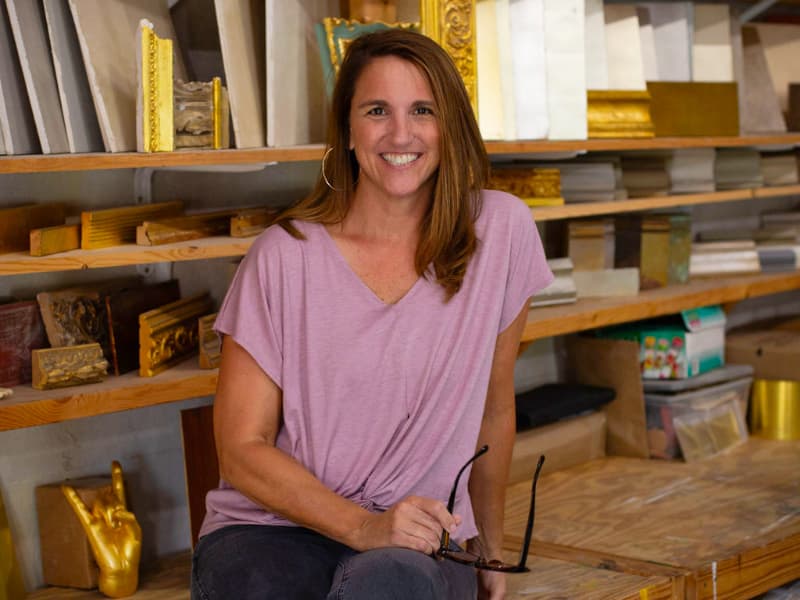 I received a BA from Hollins College in Studio Art and Psychology in hopes of becoming an art therapist, but quickly realized that it wasn't for me. After much encouragement from my art teachers, I decided to focus strictly on my art. The next hurdle was answering the forbidden question, "How are you going to make a living?". I was determined to follow my passion, but did not know what the future actually looked like, since there are no clear paths for creatives. It was a bumpy start, but I soon found the program that would ultimately change the trajectory of my life. The Biltmore Estate in Asheville, NC. was hosting London's City & Guilds Decorative Painting and Restoration program, where the students earned practicum hours working on the mansion. I learned essential job knowledge of materials, equipment, specification guidelines and paint chemistry.
That experience catapulted me into becoming a team member with International Fine Arts Conservation Studios and traveled extensively restoring sites on the National Registrar of Historic places before starting my own firm twenty years ago.
As an artist, I am able to adapt my skills and apply them in contemporary settings for modern design esthetic. I feel that a solid foundation affords endless possibilities. I enjoy collaborating with architects, designers and homeowners who not only guide me through their vision but appreciate my input. My work is the element of the space that sets the mood for the curated pieces and often ties everything together. I want my finishes to evoke a feeling without steeling the show.
The biggest challenge I have faced, is twofold: being a female in the male construction world and educating others about the precious task at hand and all of the trappings involved. The dying trades are tough to preserve because we live in a climate that new is better and most are not educated on how they were created originally. I understand the importance of collaborating with experts. I enjoy working with architects, designers, fine art conservators, mural artist and plaster craftsmen to make sure that each project is seen through a complete lens. Every project has its unique set of challenges and circumstances, so it is immensely rewarding to repair and polish what history intended.
I am always taking classes and honing my skill set, but I find that learning from others is just as important. When we finish a restoration project, I always say that the biggest compliment is when people ask, "So what did you do?"